Synnabar Consulting, Inc. offers both on-site and public training programs, seminars, and workshops in all of our consulting services. We offer these trainings in three forms:
End users (i.e. those acquiring a particular skill)
HR and Training Professionals
Consultants wishing to extend their capabilities
Synnabar training events cover every aspect of the change process for individuals, teams, and organizations, all with the overriding objective of: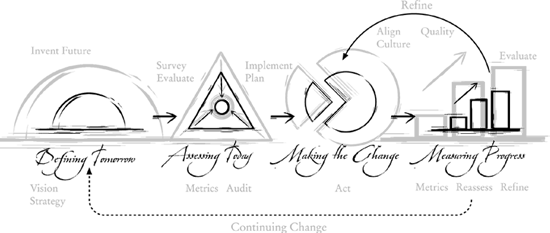 Defining Tomorrow
A strategic process for inventing the future. Who do we want to be?
Assessing Today
Taking stock. Employing state-of-the-art methodologies to understand who we are today. How are we doing?
Making the Change
Producing a plan distilled from our understanding of the gap between who/where we are and who/where we want to be. Implementing that plan.
Measuring Progress
Reassessing where we are, re-evaluating where we want to be, refining the plan, and continuing the implementation.

The Challenge

At a time of fierce competition, reduced budgets, and a fast changing marketplace, how can a business not only retain its human resource capital, but enhance its effectiveness?
World-class training based upon the very latest in human performance technology releases the potential of an organization's human resource capital while providing a significant personal benefit to the recipients.
At Synnabar Consulting, we believe that a business's key resource for growth and profitability is its people.

High-Impact Training

Synnabar Consulting's Training Programs and Workshops are high-impact designs that:
engage the hearts and minds of participants
are closely related to the business issues and challenges that face the organization
have clear opportunities for participants to apply their learning to their job performance
assemble the three essential ingredients for high performance: feedback, motivation, and change partners
deliver results.
Each of these elements is essential. In today's business environment, no company can afford to waste time or resources on training that does not add value.

All our programs contain three essential elements:
Developing understanding
Acquiring Tools and Skills
Achieving Competence: i.e., knowing when and how to use acquired skills.

Follow-Up Programs
We know that the key to added value is to ensure that training translates into real behavior change.
Synnabar Consulting also provides follow-up programs so that the new skills and competencies developed will gain traction and produce sustained change and improvement. These follow-up programs focus on the application of the new skills, address problems, review examples, and reinforce the initial workshops.

The Benefits
Synnabar's performance enhancing training programs and workshops:
Increase employee motivation, engagement, trust, satisfaction, and performance
Accelerate the development of key contributors to the organization
Develop high performance leaders and future leaders who can implement the organization's vision, goals, and business strategy.
Retool command-and-control managers into effective leaders
Identify reservoirs of talent
Groom high potentials
Help minimize mismatches between what a key contributor does and what the company needs
Assist employees in developing increased self-awareness (i.e. emotional intelligence), and a better understanding of their own strengths and limitations
Train managers to be potent mentors.
These programs achieve the following vital organizational objectives:
Enhanced competitiveness
Increased innovation and agility
Attraction of the best and the brightest
Improved retention

The benefits apply at every level in an organization.
Employee value is not about making employees happy. It is about creating the necessary conditions for a motivated and committed workforce that is required for your organization to succeed. The contribution of individual contributors, managers, and executives is the determining factor in a company's growth.
For managers and leaders in the twenty-first century, it will be imperative to develop people and skill sets at every level to enable enterprises to manage change effectively. Our goal is to help you design and implement a leadership training program that not only teaches new skills, but more importantly, motivates everyone to apply these skills and thereby enhance their performance.
A sample list of Synnabar Training Services.
Each topic is delivered in-house and in public trainings, and can be tailored for:
End Users
HR and Training Professionals
Consultants
Individual
Executive Coaching
Derailment Prevention
Developing Technical Professionals
Developing High Potentials
Partner Development: Professional Service Firms
Leadership Development
Hiring the Best By Design
Team
Team Development
Executive Team Enhancement
Cross-Functional Team Facilitation
Board Facilitation
Team Audits
Team Fix-Its
Kick-Start Workshops for Project Teams
Organization
Strategy Development Facilitation
Organizational Audits
Organization Surveys
Strategy Implementation
Culture Alignment
M&A Alignment
Culture Change
Change Management
Creating Ethical Communities
Succession Planning
Mobilizing Communication
Metrics That Matter: Measuring for Success
Programs
Training for Internal HR Team in Management Development
Group Design for Leadership Development
Coach-the-Coach Program for Managers and Leaders
Individual Development: an overview for HR Professionals
Organizational Development: an overview for HR Professionals

A Synopsis of Recent Training Events
1. Tools for Optimizing Employee Motivation, Engagement, and Commitment: the Facilitative Manager.
This course introduces concepts, skills, and tools for the Facilitative Manager. This management style and skill set is a particularly effective way of
addressing organizational inertia
conquering cynicism and low morale
overcoming resistance
dealing with conflict
developing and motivating employees
managing for results.

2. Management at the Speed of Change
This program identifies the important steps for managers to respond to rapid change. These steps include:
designing a blueprint for the change process
communicating change as a positive force
overcoming resistance
preparing for timely implementation.
3. A Manager's Guide to Strategy Implementation: Vertical Alignment
This program provides managers with a method for understanding how their group aligns with and creates value for the organization's larger vision and mission. A step-by-step process is provided for managers to utilize in their daily work planning, decision making, and priority setting in order to keep their group in vertical alignment with the organization's strategy.

4. A Manager's Guide to Strategy Implementation: Horizontal Alignment
This program teaches managers the fundamental steps necessary for Value Chain Management. In most business settings the activities that create and add value are complex and often cross-functional. In order to effectively manage this process it is necessary to be able to view the "big picture" and identify potential gaps, lapses, breakdowns, and vulnerabilities in the Value Chain. It is then necessary to develop a specific plan and set of actions targeted at improving the strength, efficiency, and effectiveness of cross-functional activities.
5. Coaching and Mentoring for Managers and Leaders
Increasingly central to the successful functioning of contemporary managers and leaders is their ability to replace the command-and-control mode of management with the manager-as-coach model. This model stresses empowerment, development, and interpersonal consultation as opposed to planning, controlling, and coordinating. Topics included in this program are:
the basics of coaching
navigating the coaching relationship
how to ask powerful questions
how to develop effective behavior change and individual development plans
how to give and receive feedback

6. Effective Team Building
This training covers the basics of team building for managers. It includes instruction in the fundamental skills necessary to work effectively in a team-oriented environment. In the program we examine how to apply basic team processes and tools to foster commitment, increase trust, empower people, and create synergy for accomplishing organizational goals.
7. Customer Focused Management
Description: This program is designed to provide managers with the specific knowledge and skills that they need in order to create a more customer-focused management style. Skills will be identified for inspiring customer-responsive behavior throughout their group. Particular focus will be placed on preparing managers for the consequences of organizational change and the resulting problems that could adversely affect customer service. Participants will leave this program with tools to improve organizational systems and customer service skills.
8. Conflict Resolution and Dealing with Difficult People
Learn to work effectively in challenging interpersonal situations in the workplace. This program will help the participants to
create win-win solutions
maintain their composure around difficult people
build and repair relationships after a win/lose conflict has occurred
motivate others to take positive actions.
One-Day Training Programs Specifically Designed for Managers and Leaders:
Metrics that Matter: Measuring for Success
Hiring the Best by Design
Essential Ingredients for High Performance
Managing for Results: Creating a Culture of Execution
Effective Meetings
From Strategy to Tactics
Strategic Planning
Strategic Decision Making
Getting It Done: Managing Relationships and Priorities
Developing a Motivation Machine
Achieving Influence in Organizations
Negotiation Skills
Successfully Navigate the Whitewaters of Organizational Politics
Building Powerful Teams
The Leader's Role in Conflict, Change, and Adversity
Programs that add value at all levels:
Managing Stress at Work
Powerful Communication Skills for the Workplace
Increasing Your Effectiveness: Emotional Intelligence in the Workplace
Managing Conflicts
Effective Analytical Thinking, Decision Making, and Problem Solving
Creativity Boot Camp
Time Management Made Easy
High-Impact Training Methodology
All of the training programs described above will be delivered utilizing Synnabar's high-impact training methodology. Central to our training design is an understanding of the Adult Learning and Behavior Change Model. These trainings are designed to engage the hearts and minds of managers and leaders.
Be closely connected to the business issues and challenges that managers face daily.
Have clear opportunities for participants to apply their learning to their job performance.
Be behaviorally based for easy identification of specific take-aways from the training event.
Deliver results.
We utilize an experiential learning process in order to engage a learner's emotional and cognitive abilities. In addition we prefer to use a company's real-time business challenges in devising case studies, scenarios, and simulations. Our exercises challenge learners to respond in ways that bypass their natural reluctance to experiment with new approaches to old problems. Lessons learned in this fashion are more likely to translate into prevailing habit and practice, and therefore to be employed outside the training context.

We at Synnabar Consulting are interested in developing collaborative long-term relationships with our clients and potential clients. We invite you to contact us so that we can learn more about your organization, your needs, and discover together how we may best be able to support your organization's strategic goals.
Any of our programs, seminars, and workshops can be custom designed to meet your organization's needs.
| | |
| --- | --- |
| | Contact us for a no-charge, exploratory discussion of either our template or our custom designed products and services. |